S-4000M Diagram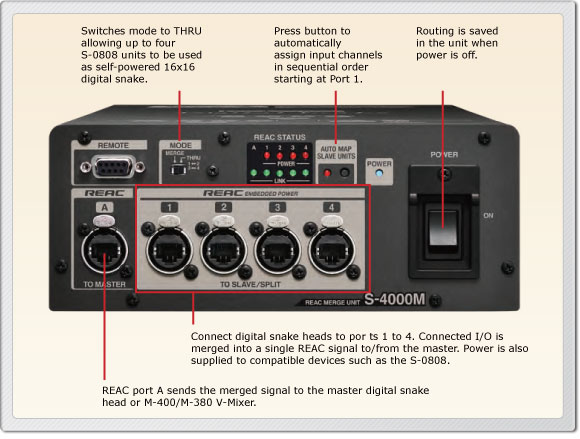 Merge up to four REAC devices together.
The S-4000M merges up to four Digital Snake heads, such as the S-0808, S-1608 and S-4000, and merges the input/ouput to a single REAC signal. Ports 1 to 4 supply REAC embedded power to compatible product such a s the S-0808. The intelligent Auto Map function assigns input channels automatically. REAC master devices recognize the S-4000M as a single REAC slave unit even when multiple digital snake heads are connected.
Distribute outputs to multiple devices.
The S-4000M also serves as a distributor of outputs and/or splitter. Any inputs returning from Port 1 (Master) are distributed to the outputs depending on the devices connected. When S-0808 sare connected, specific output assignments can be set.
Configure Routing from a PC or V-Mixer.
The M-400 / M-380 V-Mixer or dedicated PC Remote Control Software (S-4000RCS) configures routing, input gain, PAD and phantom power.