Pentatonix on Tour with the Roland M-200i

Trist Curless is the Audio Engineer for Pentatonix vocal sensations and winners of Season 3 of NBC's The Sing-Off. They are currently on an International tour selling out venues night after night. This group is a YouTube sensation garnering over 155 million views and over 5 million subscribers. This young, talented a cappella group is comprised of five vocalists, two of which comprise the rhythm and bass section.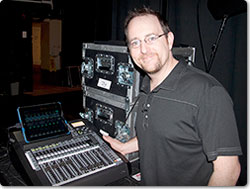 Curless was looking for a monitoring solution for the tour that sounded good, was compact and flexible. After receiving a demo of the
Roland M-200i
at the 2014 NAMM Show he decided he would give it a try. An M-200i was shipped to Soundcheck, a tour support and rehearsal studio provider in Nashville, to get everything dialed in before going on tour.
Curless reports, "The first time we used the M-200i in rehearsal all of the musicians had very wide eyes and commented that it sounded amazing." Immediately he knew that he had made the right choice.
The monitor setup is very simple with each of the five singers receiving their own stereo AUX mix. Since they don't need a dedicated monitor engineer for the tour, he has set up each in-ear mix on an AUX bus labeled for each musician. If one of the singers needs to make an adjustment, they simply select the AUX button associated with their mix, and make the level adjustments needed.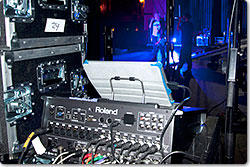 Curless likes the fact that the M-200i is very easy to use. In addition he says, "It's is great that I am able to get six full stereo mixes in a form factor the size of the Roland M-200i. Portability and durability were also key factors in us choosing the M-200i for this tour. The M-200i in its case is 49 lbs. which makes it great to travel or fly with."
The iPad integration is an awesome feature with the ability to control the M-200i wirelessly – a real time saver. Curless feels more important than the integration of the iPad is the ability of the M-200i to be fully functional without it. If for some reason the iPad gets broken or it gets left behind at the hotel, the show can still go on.
For more information about Pentatonix and their 2014 tour visit:
www.ptxofficial.com
.