Rent-All continues to expand with the Roland V-800HD MK II, their 'Swiss Army Knife'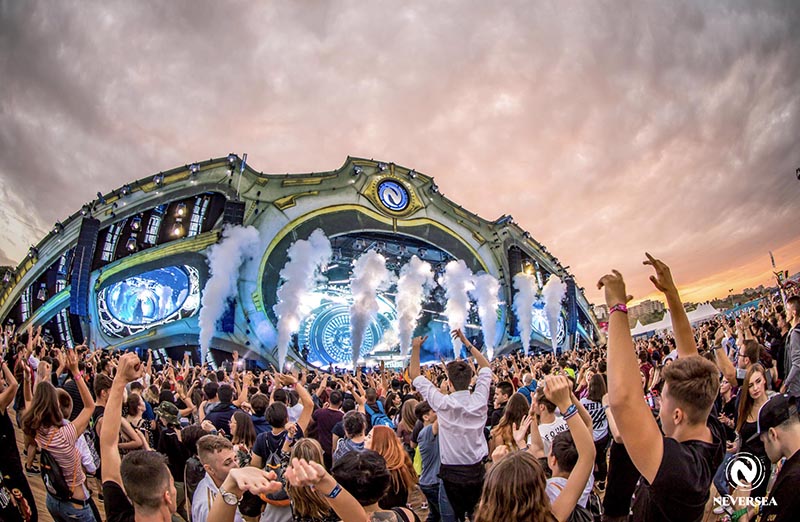 The close relationship between Rent-All and Roland Pro AV has once again been confirmed with the Bemmel based company investing in the Roland V-800HD MK II Multi-Format Video Switcher to add to their hire stock.
Some years ago, a conversation took place between Hans van den Bergh (Output) and Gilian Donders (Rent-All). The latter was looking for a suitable replacement for a number of video switchers that had to have specific features - 'high-quality video processing, intuitive operation, be reliable, designed for live applications and are highly flexible'. Van den Bergh's advice was to take a serious look at the newly introduced Roland V-800HD Multi-Format Video Switcher. After a demonstration by Kees Biemans of Roland Pro AV Benelux and an extensive internal evaluation at Rent-All they were convinced, after which several units were included in their rental stock. In the years that followed, other products were added for streaming and conversion applications. However, in the spring of 2018, Rent-All invested further in Roland, this time in the V-800HD MKII. This seems reason enough to go deeper into the experience of Rent-All with Roland's switchers, especially the V-800HD MK II.
Due to the steady growth that Rent-All is experiencing, the need arose last spring to further expand their number of video switchers. "Our attention immediately fell on the MK II version of the V-800HD that had just been introduced by Roland," says Gilian Donders, who is responsible for everything related to video at Rent-All. "Our requirements were basically the same as before, but because time had not stood still we had started to re-orientate ourselves on what is available on the market today. And soon we came to the conclusion that the V-800HD MK II in 2018 was still a very strong concept, especially with the latest improvements that Roland has made. In addition, we have always been very satisfied with the predecessor, which has always felt like a kind of 'Swiss army knife' for us. Furthermore, the demand from the market has been one of the deciding factors in making this choice. We are now in August and can now say that our choice was the right one."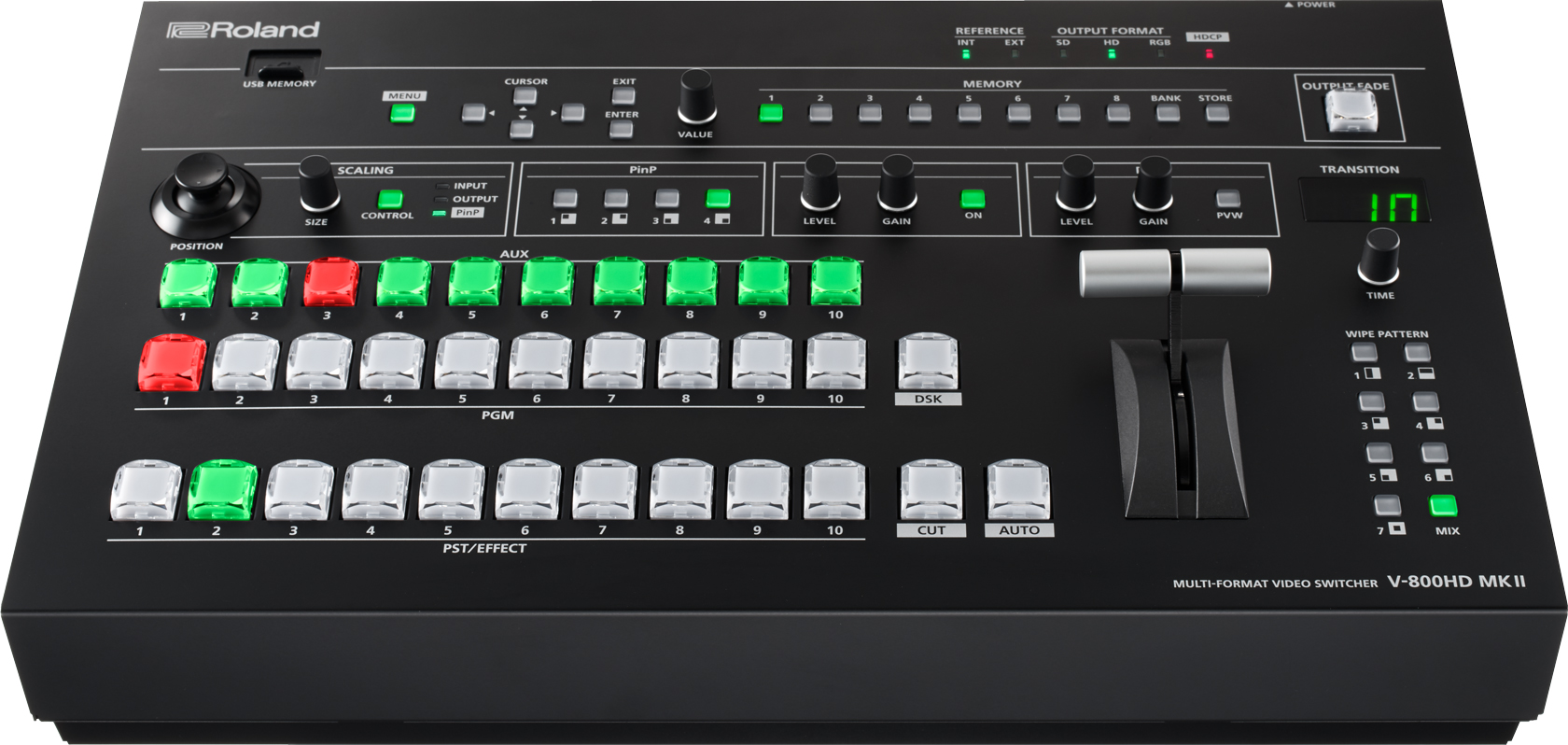 Functional and Reliable
When asked why Donders uses the term 'Swiss Army Knife', he responds: "It is the fact that the V-800HD was developed specifically for live applications. Their multi-format concept makes a world of difference for us. Roland's solutions therefore offer a number of advantages over many other video mixers and switchers that are typically designed for use in broadcast environments or fixed installations. The big difference is that you often have to deal with fixed scenarios, which generally do not deviate from the predetermined standard resolution and the way the signal comes in. If that is the case, then you will soon need extra equipment, such as a video converter, in order to process the different formats and resolutions. "With Rent-All, the situation is exactly the opposite. Donders: "We also want to avoid external converters, unless it really cannot be otherwise. The unique feature of the V-800HD is the high-quality 10-bit 4: 4: 4 video processing, the wide variety of connections, and also the integrated scalers for incoming and outgoing signals. This enables us to seamlessly merge a variety of video formats and resolutions from cameras, PCs, video servers and mobile devices with top-class image quality, so that the whole image can then be transferred to projectors in exactly the right resolution or LED screens, recorders, streaming encoders and other equipment. All this with a minimal delay, which is of crucial importance for the dry-hire customers we serve. It is not well received when the person is far from synchronous with his or her camera image behind or next to them. For Rent-All these properties were the reason for choosing this device". Donders: "Certainly in addition to functionality, reliability plays a very important role for us. The experience in the longer term should of course always prove this, but based on our previous experience with Roland, we can only say that their equipment has always delivered in that area which is exactly what we as a rental company need."
Outstanding
The switchers have already been used by Rent-All's customers, in the most diverse jobs both at small-scale business conferences and at large festivals. "Because of the high degree of flexibility, their employability is very wide. With a V-800HD you will not easily encounter a situation where you need additional equipment, "says Donders, who states that Rent-All has even more Roland products in use. "In the field of video switchers, the V-800HD does exactly what we were looking for. We still have a few dozen VC-1 converters from Roland in use, including the VC-1 FS Delay. This is a bi-directional HDMI / SDI converter, where you can choose whether you want to convert from SDI to HDMI or vice versa. In addition, they offer the possibility of audio embedding and de-embedding in both analogue and AES / EBU with, and that is quite unique, an independently adjustable delay of up to 4.5 frames for both audio and video that is ideal for lip-syncing, for example, or to align a projector with LED screens in terms of timing. So far, they have proved to be very reliable and have often helped our engineers 'out of the fire'. They were exactly meant for that. Actually, they are also a kind of Swiss army knife, but in real pocket format."
Philosophy
Gilian Donders is very pleased with the collaboration with Roland: "Good, reliable and fast when needed. They are always ready, as is their distributor. Roland is also a company that listens very well to the needs of its customers. I therefore have regular contact with them and provide them with feedback from us as a user. Roland closely monitors how our market is moving and how new products can respond to current and future needs. The philosophy of Roland to focus on the user who demands high quality, reliability, flexibility and intuitive operation seamlessly fits our needs."
Intuitive
Together with Kees Biemans, responsible for Roland Pro AV in the Benelux, we go deeper into the technology under the hood and the functionalities that the V-800HD MKII has to offer. "The concept of the V-800HD MKII, an 'all-you-can-eat' where you can send almost anything and can retrieve it in a multitude of formats and resolutions, can still be called unique, especially in this price category" says Kees Biemans. "Together with the improved ergonomics of the MKII version, which is equipped with an extra row of buttons to be able to select the source of the AUX bus even faster, the user-friendliness has increased even further. Previously the switching of the AUX bus had to be done from the menu or via a combination of buttons. Thanks to the extra row of buttons you can now directly select your source, making it even more intuitive."

Technology Under the Hood
Under the hood there is basically the same technology as with its predecessor. It consists of a wide variety of input and output formats such as composite, component, RGB / VGA, DVI-I, DVI-D, DVI-A, HDMI as well as SD, HD, and 3G-SDI. Due to the fact that each input and output is also equipped with its own scaler and format converter, different formats and resolutions can be used interchangeably. Biemans: "One can simultaneously use SD and HD camera images. Every input and output is also equipped with colour correction, so that different cameras can be tuned with respect to colour, saturation and contrast. "Other advantages of the integrated scalers are the possibility to zoom in or zoom out on both the different sources and on the outgoing signal and to change the position. This is extremely useful when, for example, a projector is not optimally positioned. This way you can quickly ensure that the image is projected onto the screen in the right dimensions. Also useful is the possibility to have 4: 3 and 16: 9/16: 10 material as a whole without the aspect ratio no longer being displayed correctly. In addition, it is possible to control LED screens pixel-accurately for optimum sharpness. The V-800HD MKII goes beyond the 'tuning' of the different video formats and resolutions. It is also possible to use secure HDCP sources such as BluRay and other media players or PCs and mix them with non-secure content. Roland also adheres strictly to the strict copyright legislation; for example, sending out an HDCP signal is limited to HDMI and DVI outputs. Other practical issues are dealt with by the dedicated HDMI output for a multi-view screen, on which you can easily monitor the various sources, as well as the preview and program outputs. The possibility to program presets and use of image files as video sources are other things that can come in handy in live applications.
Image Quality
The V-800HD MKII is basically intended as a video switcher for both camera images and computer sources. "To ensure optimum image quality, the switcher is equipped with a 10-bit 4: 4: 4 processing engine," says Biemans. "This particularly comes into its own when using computer sources. Video cards from PCs also send their signal in the same 10-bit 4: 4: 4 resolution. "After processing the images in the V-800HD, the signal (provided the resolution and colour space are set correctly) therefore remains exactly as it is was, without any loss of sharpness and colour depth. Furthermore, the quality of the scalers and format converters is also of a high level, so that their use has little or no influence on the signal.
Conclusion
With fifteen different models, Roland Pro AV offers a very wide range of options at various price points, each with its own specific characteristics. It is therefore advisable to clearly determine in advance which disciplines one has in the field of video (and where it could go in the future) and then to see which Roland switcher fits best.