VJ Milo

Ten years ago, Emilio Sa, aka VJ Milo, discovered the world of video while working with different advertising agencies and post-production studios.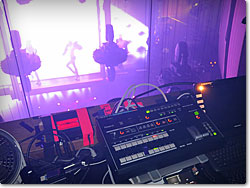 He then began to video jockey on the weekends at raves, and today he is a full-time VJ working concert tours, corporate events, and premier nightclubs such as the Marquee in Las Vegas. He has a background in animation, design, and filmmaking, which he says makes his work more unified, deliberate, and specific to his clients' aesthetics. He likes to work remotely from an iPad, allowing him to perform from anywhere within the venue, from the VIP booth to the dance floor itself. He recently acquired the Roland V-800HD mixer, which has been put to use in the Marquee, Dayclub and TAO Nightclubs.
Application
Before the V-800HD, Milo was using a Crestron touchscreen controller, which wasn't "as hands on as having a T-bar and being able to preview a video channel and mix it in," he says, "It's so much better having a tactile video switcher. The V-800HD allows me to do a lot more switching between servers and cameras, and do it way faster." Additionally, with everything in HD, Milo constantly employs the scaling feature to fit the images to the pixel restraints of the LED wall. He says, "I feel that using the V-800HD has improved picture quality–it looks better. The blacks look way nicer." He loves the build of the V-800HD with its tactile operation and scaling feature, and says that anyone that is familiar with switcher/scalers will catch onto it right away
Milo has been a Roland user and advocate for many years, even before he began to VJ, "From the very beginning I found Roland products to be innovative and user friendly, with a very minimal learning curve, and very powerful results. I've always been a fan of anything Roland over the years. I would prefer to use a Roland music and video products over any other."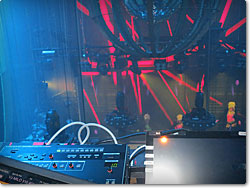 The System
As creative director and VJ at Marquee Nightclub, Milo operates a 40x20 foot LED wall, which is roughly three stories high. Using the Roland V-800HD, he mixes and scales visuals with live feeds from the 3 HD-SDI cameras in the house. Before introducing the V-800HD to the venue in the summer of 2012, Milo was using traditional mixer and scaling equipment, "It's quite a relief to use the V-800HD rather than the traditional scalers," he says, "It's far more user-friendly and controllable." With the V-800HD he can use one full monitor to preview the different feeds; he says, "It really allows you to see more of the features and have more control than you would have traditionally–traditional switcher/scalers have a small LCD screen that barely allows you to see the settings."
System Integration