New York Film Academy

The New York Film Academy is a highly regarded film school that has attracted the children of many Hollywood legends - including Steven Spielberg, Al Pacino, and Kevin Kline - with their extensive offerings of studies. The Academy attracts a diverse student body from all over the world and offers hands-on experience workshops that give students the opportunity to develop their creative skills to the fullest extent possible. Programs offered include Filmmaking, Acting, 3D Animation, Screenwriting, Musical Theatre, Broadcast Journalism, Photography and Music Video.
The System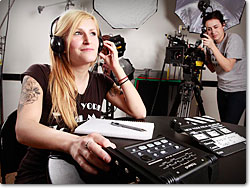 The students involved in the one to two degree programs use the R-44 as their field recorder for all of their larger and more advanced productions. After using the R-44 the features some of the top NYFA faculty and students noticed was sound quality, ease of use, durability, construction quality and design.
Brett Ziebarth of NYFA talks about the features of the R-44. "As of now we are exploring different options with the recorder. The most basic and common setup for our students is using the XLR inputs 1 thru 3 and recording separate tracks on each. Channel 2 is for the boom microphone, Channel 1 and 3 we use for the wireless receivers. This way they can monitor the boom in one ear and both wireless mics in the other." Ziebarth concludes that the R-44 has been a nice upgrade from their previous field recorder saying, "It has combined a recorder and mixer into one compact unit, allowing our students a much more compact and user-friendly interface than our previous system."
Application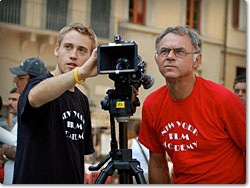 NYFA was looking for a field recorder that would allow their students a streamlined method for capturing quality sound on set. Since many shoots take place in New York, a lightweight, portable and battery efficient field recorder is an essential tool for students who are shooting on location all over the city. NYFA compared several similar recorders in the same price range and the Roland R-44 was the most durable and user friendly of the bunch.
Instructor Joe Avastano really enjoys the versatility of R-44's. Avastano says, "The students have taken to the R-44 very quickly. The menus are instinctively laid out, and they can record great sounding tracks very easily right out the box. It is a very flexible and solid machine with excellent low noise recording. It didn't take my students long to record great sound tracks. Plus, the onboard EQ is as good as many software effects packages."
System Integration