Canyon View Vineyard Church

Replete with a culturally relevant mission and diverse community outreach programs, Canyon View Vineyard Church (Grand Junction, CO) is a 3000-member, non-denominational sanctuary amidst a setting of urban development.
According to technical director Jared Johnson, the 10-year-old, original structure had been in need of a sound system upgrade featuring personal monitoring with independent mixing ability, plus digital versatility. The Roland V-Mixing System and M-48 personal mixers, used for all weekend and midweek services as well as all other events held in Canyon View's 18,000 square foot, 1300-seat main auditorium, have most assuredly fulfilled those requirements.
The System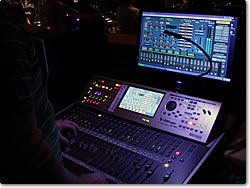 "We use the M-400 V-Mixer as the core main FOH mixing console," states Johnson. The M-400 is connected to the S-4000 and S-1608 digital snakes on the 50' x 40' stage via 2 Cat5e cables in conduit from stage to FOH. The S-4000, S-1608 and S-4000D units are all mounted under the stage in the spot that used to house a mess of wire and cables. Now, it's a clean, manageable setup that helps make system adjustments and reconfiguration much easier.
From that central location, XLR and Cat5e connections run to 7 floor-pockets around the stage eliminating the need for long cable runs. 5' to 10' XLR and Cat5e cables are routed from mics/instruments, M-48 personal mixers to the stage pockets. A 3rd Cat5e cable, from stage to FOH, allows for one M-48 personal mixer at FOH to provide the sound person the ability to hear each personal mixer on stage and make any adjustments. The M-48 at FOH also provides a customized sub mix for broadcasting to an offsite location and the website.
Application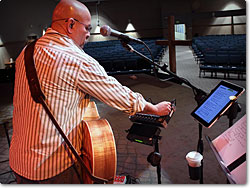 "Going from analogue to digital," reflects Johnson, "has marked a huge improvement for us. With the V-Mixing System, we've got all the tools in one package, to get the job done." He touts the system's versatility allowing them to meet any need asked of the audio team. Johnson finds that personal monitoring has been an "amazing addition to our production.
Our performers are continually excited about their own mix, respectively, and we can save their settings and recall them next time. This totally streamlines rehearsal and service run-throughs…we can be up and running in a matter of minutes."
Johnson appreciates the V-Mixing System's total package integration. "Everything talks to everything. In addition," he says, "the M-400 and M-48 are intuitively designed, and have proven to be very user-friendly. This entire package was very affordable and we were able to upgrade for just over half our budgeted amount." Besides line noise reduction and significant sound quality improvement, Johnson also acknowledges that system installation was quite straightforward, and that added to the cost-savings by allowing them to do part of the installation and setup"
System Integration