Tyler Stableford

With an international clientele and worldwide recognition to his name, photographer/cinematographer Tyler Stableford relies on premium-grade equipment essentials, including the Roland R-44 solid-state 4-channel field recorder.
The System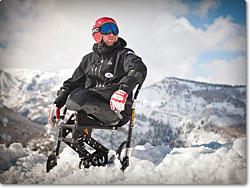 "I use the R-44 for my DSLR (digital single lens reflex) video and multimedia productions," reports Stableford, "to capture field audio from a combination of Sennheiser MKH 416 shotgun microphones plus Lectrosonics and Sennheiser wireless lavaliers." One of Canon's distinguished Explorers of Light, he enlists DSLR cameras (Canon's EOS 5D Mark II, 1D Mark IV, 7D and 60D, specifically) because they provide world-class video in an amazingly small package. As an adventure photographer, Stableford is attracted to whatever cameras can help him capture a story with the least amount of weight and bulk – all while maintaining exceptional image quality. "The R-44 has been an outstanding field audio recorder for my team. It's of great value," he says, "and has proven itself to be reliable on many high-mountain adventures."
Application
One such project was Stableford's impactful 14-minute DSLR documentary The Fall Line: A Warrior's Return, named Mammoth Mountain Film Festival's Best Documentary Short, and premiered at the 2011 Banff Mountain Film Festival in Toronto (also screened for the Banff fest's World Tour). The Fall Line chronicles Iraq War veteran/Alpine skier Heath Calhoun as he surmounts a grenade explosion-caused double-leg amputation, and subsequently mono (sit) skis on the 2010 Paralympic Ski Team. Stableford describes the Roland R-44 field recorder as a staple for the making of the film.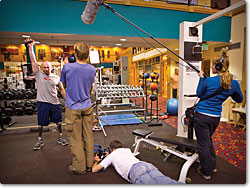 Up until he purchased the R-44, Stableford had been looking for the best value in a field recorder that could capture, and record, up to four separate audio tracks. He finds the R-44 to be a very high productive tool because because as he states is, "very small and light, considering it can phantom power four separate sources."
He continues: "We can easily take it into the field on ice-climbs and ski shoots, and the buttons can be operated with gloved hands." Stableford also speaks of the R-44's reliability in the cold: "I've used it in temperatures well below freezing, and it has always worked well."
He feels the sound quality of the unit is quite high, providing "a heck of a good value for the price." Stableford also remarks that the R-44 field recorder "slips easily into our audio bag. It's also relatively easy to use, so we can give it to any member of our team and work with it in the field."
System Integration