Gateway Church Installs M-380 and Personal Mixing

10-year strong, non-denominational Gateway Church focuses on helping "people of all economic, social and ethnic backgrounds in the (Dallas/Fort Worth) Metroplex and around the world." The church serves its' community throughout the year with live worship, personal ministries and special programs/activities such as ministry trips abroad, class offerings, group meetings, live webcasts, team sports and Dallas Outreach.
The System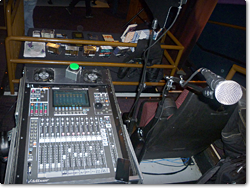 Gateway technical arts department director of live audio production Andy Engstrom enlists an M-380 mixing console, 5 M-48 live personal mixers, 2 S-1608 digital snakes and 1 S-4000D REAC splitter to fill a Sunday worship and sermon support overflow theater, offsite, with live music and sound (in addition to remote feed from Gateway's Southlake campus).
The 420-seat Harkins Theater (Southlake Towne Center) plays host to a contemporary worship music ensemble, and features artists such as Dove Award nominee Kari Jobe. "Our worship team," says Engstrom, "loves the M-48s' flexibility and control, so no other monitoring is used for the band."
Harkins Theaters owns the sound system, which is surround delay/audience response-enabled. "The theater is approximately 88 feet from the screen to the back wall, 60 feet wide and about 35 feet high," reports Engstrom.
1 S-1608 snake, along with the S-4000D splitter, are situated at the stage for live sermon/music content. The 2nd S-1608 snake, which stays mounted in the theater's projection room, is used for broadcast fiber signal which arrives from Gateway's 1700-seat Southlake campus auditorium carrying its respective sermon and music feeds to the theater. "The fiber," explains Engstrom, "provides us with 8 channels of audio that allow us many options, as well as the ability to mix surround."
Application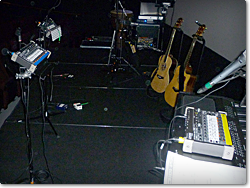 He reflects on the systems' assets: "Because of the Roland products' small, compact footprint and loaded features, we've been able to keep setup (7:30AM) and strike (1:30PM) time to a minimum. I believe," he continues, "that there are no other products on the market that allow us as much flexibility in such a small yet powerful system."
Engstrom enjoys the ease of connectivity within all parts of the Roland-configured system. "The Cat5 is beautiful, and the gear is lightweight and portable," he remarks. "In terms of convenience, the application is spread over 3 areas (mix site, stage, and projection room). As such, the REAC communication between remote locations ties it all together."
The Harkins site's M-380 V-Mixer and M-48 live personal mixers were purchased from a local reseller (Grand Prairie, TX). Engstrom claims he'd been looking for "niche products that would allow ultimate flexibility with fast and simple setup. That's exactly what I found with these Roland units," he states.
"Every time I've encountered an obstacle," concludes Engstrom, "there's been a method in which to find a solution – often times with the phone support team at Roland Systems Group."
System Integration