New York Voices at Birdland, NYC

The M-380 V-Mixer and SONAR REAC recording mixes and records NY Voices Jazz group at Birdland in New York. When Manhattan's legendary Birdland jazz club hosted Grammy-winning New York Voices during Thanksgiving week '09, freelance road manager/sound mixer Bryan Farina relied upon the M-380 V-Mixer 48-channel digital mixing console to mix and record.
According to veteran Farina, the 1-off, 5-night gig of 2 sets per night had posed its challenges. "The room was really dead-sounding," he says, "so, especially when it was full, it was like they were singing with sweaters in front of their faces. Sometimes, the 2nd set would be lighter and I'd mix at the same volume, but it seemed twice as loud."
Farina attests, though, that with the M-380 in use, it "was easy…I could just set my EQ up on some hot keys, and then be able to get to it quickly, and make adjustments on the fly as the show started and moved along."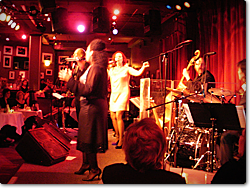 The System
Along with the M-380 console, Farina used two S-1608 Digital Snakes, as well as the Cakewalk by Roland SONAR REAC recording system, which "allowed me to record 40 channels of audio. Those were, basically, just direct outs of all the sound sources I was mixing through the P.A.," he adds. To capture audio files to his computer, Farina enlisted Cakewalk by Roland SONAR 8.5 Producer software, which he found to be "really straightforward and simple to use." He simply connected a cat5e from the split port on the M-380 directly to a Giga-bit Ethernet port on a PC using SONAR REAC Recording.
Application
Farina finds that space can be a real problem in small clubs such as Birdland. The club's sound booth, which had already housed an Allen & Heath analog console plus a lighting board, was well able to accommodate the M-380 digital console, which he claims is a "breeze to travel with. In the jazz world, people don't pay as much for things. So, if we can get inexpensive equipment in a small package that sounds good, then that makes my life easier."
He goes on to say that the M-380 digital unit takes up "half the space, but does every single thing the M-400 V-Mixer does." Farina points out that often, when manufacturers jump into the small console arena, they "either 'chintz out', or skimp in terms of sound or preamp quality. But the M-380 provides the same exact audio quality as the (big version) M-400 does."
What he's also pleased with about the M-380 is that "since I'd had a relatively low channel count, I could split them a variety of different ways. Thus, the unit allowed me to separately EQ all my inputs on the channel, independently of the house."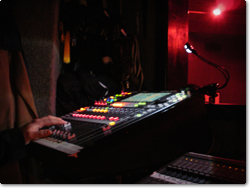 Farina had wanted New York Voices vocals to be "out front, but I had to be careful that I wasn't mixing it too out front, because the band still drives the song. I'd wanted it 60:40, vocals to band: vocals, then piano, bass under that, and then drums." He reports that since the performances had entailed vocalese (whereby new words are sung, often quickly, to instrumental improvisations, and the crowd really wants to understand the words), he "just had to put the vocals out there."
In terms of digital vs. analog, what Farina liked most about the system was that in using the S-1608 digital snake, he was able to "get the preamp on the stage, close to the mic, to eliminate the chance of noise in the line." He's "perfectly happy with everything the board had done at those shows. For the live recording of them (for New York Voices- and self-promotion, and possibly a CD), cleanliness had been the top priority, and the M-380 digital console sounded really clean. Setup was a snap, and it was nice to mix on it, as well!"
System Integration