BBC Radio Theatre

The M-400 V-Mixer is the core component as part of BBC's Radio's Theatre technical overhaul in London.
One of the final components in an extensive technical refurbishment of the BBC's largest radio studio, the M-400 V-Mixing System has been installed in the broadcaster's famous Radio Theatre in London's Broadcasting House.
As part of a larger building programme, the Radio Theatre has been refurbished and fitted out for a wide range of audience shows, primarily but not exclusively output to radio, including light entertainment productions, comedy, Christmas specials and one-off events. The venue for many historic recordings since the 1930s when it was known as the BBC Concert Hall, today the theatre's 312-seat auditorium has been equipped with extensive PA and lighting facilities, and includes an 80-track digital recording facility.

The System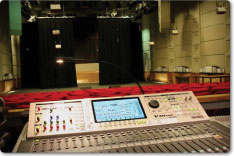 The M-400 digital mixing system, which has been supplied by Total Audio Solutions, has the job of mixing the two PA systems in the theatre, a d&b compact line array and a distributed speech system. More than 100 mic inputs are sent from stage via MADI to the main control console for the on-air broadcast mix. From the stagebox, a smaller selection of 40 inputs is split to the S-4000 Digital Snake stage unit, travelling up CAT5E digital multicore to the M-400 console, where these inputs are used for the front-of-house sound mix, and providing up to 8 foldback mixes if required. The system configuration permits the use of a second M-400 as a monitor console, currently seconded from a BBC multimedia events team.
Application
"The Roland M-400 was chosen for its powerful features and high quality mic pres," explains Peter Knowles of Total Audio Solutions, who started his career at Broadcasting house some 25 years ago. "Digital consoles of this type are ever-flexible tool boxes that can recall complex setups in seconds. The Roland can distribute its remote mic pres many times over."
With the M-400 halving the physical footprint of the previous analogue console used in the Theatre, and the Digital Snake 32x8 stage unit and 8x32 front-of-house unit fitting into a single 12U rack, the system is suitably compact and portable for an environment that has limited space. "If necessary, we can strike the system really quickly," says Events Manager Mark Diamond. "With some Radio OB vehicles using the same Snakes and M-400 consoles, we can turn up at very short notice and provide broadcast splits fast."
A contributor to Roland's customer research on feature upgrades, Diamond has recently loaded the new Version 1.5 software onto the M-400, and reports that the console is now more flexible, notably with the ability to move 24 gates and 24 compressors more freely. The free software upgrade also includes numerous user interface enhancements for accelerated workflow and ease of use.
The M-400 is a 48-channel M-400 Mixing Console with 16 buses, channel and bus DSP, 4 stereo FX processors, 4 graphic EQs, built-in stereo recording and playback, and built in multi-channel split port. It is supplied with configurable digital snakes using high quality, remotely controlled mic preamps on stage, and low-cost lightweight Cat5e distribution.