Ford Field Installs the V-Mixing System

Ford Field technical staff chooses the V-Mixer because of it's flexibility and ease of operability.
Since its opening in downtown Detroit in 2002, Ford Field (cap. 65,000), has played host to a wide range of large-scale sports, music and other events including the NFL's Detroit Lions, NCAA college football and basketball, the Rolling Stones, Eminem, Madonna, Monster Jam and more. In this case, Lions Director of Broadcasting and Production Bryan Bender's specific audio requirement was to upgrade the front-of-the-house mixing system fully into the digital realm.
The System
The V-Mixing System Expanded serves as the digital mixing focal point for the stadium's powerful FOH system which includes one hundred and fifty power amps, extensive systems processing, and one hundred eighty-four main cluster speakers, and over two hundred distributed speakers. The full system incorporates twenty-two 19" racks full of audio equipment. The M-400 V-Mixer system includes 2 stage units which include the S-4000 (32x8) and S-1608 (16x8) Digital Snake heads which connect by two cat5e cables. A second M-400 was purchased as a backup system and because the price of the V-Mixing System is so affordable they were able to include the backup M-400 console in the original purchase for the same price as compared to one digital console of it's closest competitor.
Application
As Ford Field prepared to make the move into digital mixing, Simoni (an "old analog guy" by his own admission) arranged an on-site shoot-out between Roland's V-Mixer and a more expensive (and complex) competitor's mixer. In this situation, the V-Mixer emerged as the clear and obvious choice of management and stadium staff because of the unit's ease of operation and flexibility. Simoni, who handles the mix himself when the Lions are in town, reports that he, his staff, and the stadium staff all use the mixer with total confidence, and that "everything is just a button away". He also notes that the upgrade into digital mixing has provided more power, more versatility, better audio quality, and an overall simplification of operation.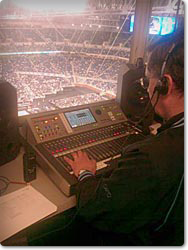 When it came time install the V-Mixer and then integrate it into the full system, Simoni says that support from the factory was "above and beyond". RSG representatives Audiobiz provided demo set-up, "real world" demo programming and overall assistance, and Roland Systems Group company representative John Broadhead was on-site to provide backup technical assistance when the V-Mixer made its debut at last winter's NCAA basketball regionals. Both Simoni and Bender advise that they are especially looking forward to using and showing off the V-Mixer during the NCAA Final Four this spring.
"The V-Mixer is non-intimidating; it invites you to put your hands on it." - Mark Simoni, Simoni Systems
"The mixer is everything we hoped it would be and more - we're very pleased with the purchase. On Sundays, all I have to do is walk in, shake Mark's hand, ask if everything is working, and he says 'yes!'" - Bryan Bender, Detroit Lions Director of Broadcasting & Production
System Integration