Black Dog Productions

Blackdog Productions employs three battery powered R-44 Audio Field Recorder to capture audio during the production and shooting of reality TV show "The Greenest House".
Black Dog Productions (Northwest Washington) is a small content creation company that focuses on creating new ways of connecting with audiences. The Black Dog team does lots of work in education, outreach and entertainment. They have recently completed work shooting the green reality TV series The Greenest House, which follows two families in their efforts to save money and reduce their impacts.
Though show producer/director Suzanne Blais and crew started the project with a limited budget and local distribution in mind, Blais wanted to shoot it so that it had the potential to go to other markets. "For that reason," she says, "shooting in HD and maintaining the highest possible quality audio was essential."
The R-44 field recorder's ability to master/slave in larger "Challenge" situations meant they could maintain the integrity of the sound over a wide area using (a wide variety of) eleven wireless mics. This, plus working on a tight budget, had definitely brought its own set of challenges, "but the R-44 made it work," remarks Blais. "We were able to gang three of them up and run them simultaneously." The R-44 has allowed them to individually mic subjects so as to isolate them, as well as do outdoor shoots in remote locations and get great quality sound.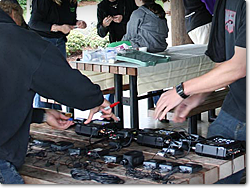 Blais explains that it was easy for the families they were working with to "forget the process when they're on a wireless – and we had wanted them to forget about us. We were following nine people in two families as well as two coaches, a host and a cast of experts and mentors who would come and go in the homes." They also shot in challenging locations such as cramped crawlspaces and attics as well as around town, for timed "Challenges", where families would compete against each other.
The R-44 has offered Blais and company the portability and convenience they'd needed, while maintaining the highest possible audio signal from multiple sources. Blais feels it was the perfect answer for such a variety of demanding situations. "We were thrilled when we discovered the R-44 field recorder," she concludes. "The unit is straightforward, easy to use and compact. It has given us more control over the audio for The Greenest House, and has brought the stealth factor back into the game for us on a daily basis."