Moving Pictures

The R-4 Pro field recorder is the recorder of choice for Moving Pictures Productions, a production company that focuses on live and event production.
David Venturini, president of Moving Pictures Company, has spent the last 14 years producing, directing and editing all types of productions. The award-winning production veteran and his partner Joe Piacentino have earned numerous Telly and Communicator awards. The team shoots in SD and HD depending on client needs.
When the Moving Pictures team needs to record high quality audio in combination with HD video, they chose the R-4 Pro. Moving Pictures uses the R-4 Pro in combination with the JVC GY-HD250U video camera. The two make an ideal pairing because the R-4 Pro syncs up to the HD camera with the SMPTE time code allowing the crew to capture audio at 23.97 frames per second.
Head of the award-winning production company, David Venturini says, "we learned to use the R-4 Pro in under 5 minutes." The user-friendly menus and software helped with the quick learning curve.
The R-4 Pro isolates four channels of audio, which is perfect for live band performances and music videos produced by Moving Pictures. For example, they used the R-4 Pro at a performance of T. Roth and Another Pretty Face featuring Tico Torres. Each performer was mic'd for the optimal sound capture. David marveled at its reliability, saying, "once we hit record, we never looked back or worried that the unit would fail during the nearly two hour concert."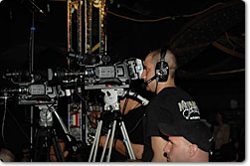 The Moving Pictures crew fell love with the R-4 Pro calling it a must-have. Features such as variable frame rates, lightweight and rugged frame, time code sync and compatibility with Final Cut Pro lead the list of benefits. The variable frame rates allow the team at Moving Pictures to adjust as required for each job. Additionally, during live event production, the crew is constantly on the move. Having a lightweight unit with long battery life make a noticeable difference to the crew.
Since they used the product in a video-oriented application, its integration with Final Cut Pro shortens the workflow considerably. By connecting the R-4 Pro to the computer via USB, all four channels of audio are copied directly into Final Cut Pro.