GrapeRadio

The R-4 captures in-studio interviews and experiences of GrapeRadio, an internationally acclaimed podcast series focused on wine-related topics.
With more than 60,000 podcasts filtering across the internet today, GrapeRadio, an international podcast focused on wine-related topics, has found a way to stand out from the crowd. Recently honored with the Podcast of 2006 award, GrapeRadio podcasts to an international audience with nearly 15,000 downloads per show. The interview style show features conversations with winemakers, vineyard owners, industry importers, restaurateurs, and sommeliers.
To capture in-studio interviews and experiences in the field, the GrapeRadio crew rely on the R-4. For typical set-up in the studio, a lapel microphone is attached to the guest, another microphone is set on a boom near the interview subject, and a microphone is pinned to each of the two interviewers. Then, all four inputs go to the R-4. Grape Radio Producer Jay Selman says, "I love the fact that the R-4 has four inputs…most other units only have two inputs, which could never satisfy our demands."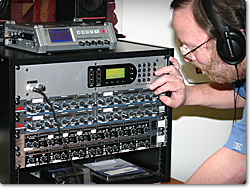 The R-4 hard drive is fast, reliable and has a huge storage capacity. It offers the team the flexibility to record hours of continuous material without needing to worry about replacing the CF memory.
GrapeRadio has found the R-4 to be a turnkey system, especially for field editing. Selman reports that the powerful built-in software is so intuitive that it doesn't require an audio engineer, "It allows me to concentrate on gathering my material and not to have to focus on the technical aspects."
For their time in the field, GrapeRadio staffers appreciate the ruggedness of the unit. Some of their road trips have given the R-4 quite a beating. One occasion left the staff unable to access the hard drive on the R-4. The unit was shipped to RSG for repair and within 24-hours the technical support team had fixed the problem (a loose cable). Selman was "amazed" that the RSG tech support called to keep him informed every step of the way without being asked. He also adds that he appreciates talking to a live person every time he calls for advice.