AR Series Overview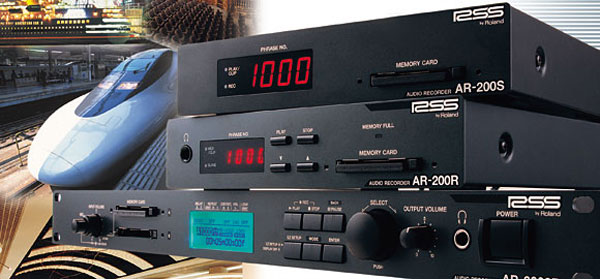 The AR series of products record and play back audio from solid state memory for audio installations that require reliability and flexible control options. With no moving parts and Roland's legendary quality, AR products have been used to provide reliable playback for the most demanding applications. From the AR-3000R with extensive front panel controls to the AR-200S with contact closure and an RS-232c interface, the AR series offers the highest quality and most reliable audio playback on the market today. Many Applications Require the Industry Standard AR Series' Reliability
There are currently thousands of AR products in use today, including many that have been playing back 24/7 for years! Typical applications include theme parks, museums, elevators, airports, buses, trains, convenience stores, and trams. And these are just some of the installations that can benefit from the AR series' high quality, up to 260 hours of recording/playback time.

The AR series has been used for educational narratives, background music, safety and warning messages, public transportation addresses, crowd control, broadcast station ID's, news and sports intros, applause and laugh tracks, and any number of applications where instantaneous or continuous message playing is required.

The AR series' 24-bit, 48KHz audio sets the standard in audio quality for fixed installation applications
The AR series represents the industry standard in high quality audio with up to 48 kHz, 24 bit linear recording and playback. Users can select from 48kHz, 44.1 kHz, 32 kHz, 22.05 kHz, 16 kHz and 8 kHz sampling rates. For longer recording times the AR series provides the latest Roland Digital Audio Coding (RDAC) technology, which uses less memory with virtually no loss of sound quality and offers up to 260 hours of recording time.

The AR Series of audio recorders use Compact Flash memory cards. From 500 to 1000 phrases can be stored on each card and provide reliable recording and playback with no moving parts.

Flexible control options have made the AR series the market leader in audio playback
The AR-3000 has many flexible control options from internal playlists to instantaneous external triggering. Some of these control methods include:
External Control
Internal Playlists
RS-232c
Contact Closure
Binary Playback of all phrases
List Playback including Random Message insertion
Program Play
Busy Control Output during Phrase Playback
Phrase looping with crossfade
Sequence Phrases for playing back multiple phrases
Song Mode for playing back phrases assigned to 24 hour time line
Random Phrase playback from a phrase list

Select AR models allow onsite user-controlled recording via a microphone input for message customization and special events.

The AR series is the industry leader in flexible control options. It's easy to configure phrase playback for just about any application. See the AR Series Feature Comparison for a comprehensive look at all of the AR series control options.

Multi-Channel Playback
AR series products can be locked together for sample-accurate playback of up to 64 tracks. Playback can also be synchronized to time code. A single AR can be operated as a stereo or an independently controlled dual mono playback device. These features offer very reliable, cost-effective and flexible ways of playing back synchronized audio.
Many Sophisticated Audio Functions
The AR series also offers many sophisticated audio functions such as cross-fade looping of phrases for sound effects, onboard EQ, automatic ducking, and time stretching of phrases.
Automatic "Ducking" of external audio inputs make the AR series perfect for background music and messaging applications
Rear panel line inputs can be used to combine external audio signals (like FM broadcasts or CD playback) and phrases played back on the AR unit. The incoming audio signal level can be automatically lowered or "ducked" during phrase playback to a user selectable level. This makes the AR a natural for any retail, theme park, music on hold or other application requiring background music with periodic public messaging.
MIDI Control and Playback
In addition to audio, select AR products can record and play back MIDI phrases. MIDI data playback can be used to control other devices for lighting or show control applications. MIDI can also be used for complete playback control of these AR products from a touch panel or show controller. SMF (Standard MIDI File) music data can also be played or recorded. Using SMF playback and a MIDI sound module, literally thousands of hours of music can be played from one AR unit.
Free Editing and Configuration Software
AR phrases can be edited and playlist and control functions managed from the front panel of select AR products. In addition, free ARE-3000 editing software allows easy programming of internal playlists, organization of list functions, control out protocol and other phrase control functions. The ARE software will also transfer .WAV files to or from an AR card for fast program assembly or editing.
IP Networking for File Transfer, Control, Playback and Recording
When network control and file management is needed, the RSS AR-3000IP is the perfect solution. The AR-3000IP can be placed on any standard Ethernet IP network. The unit can then be controlled from anywhere over the network and files and playlists can be uploaded for playback or recordings triggered and retrieved all over a standard Ethernet network. Unique IP addresses allow multiple ARs to be used for flexible system design for any Ethernet network installation.
The AR series offers the highest sound quality and most flexible control options on the market today!
Main Features
Industry standard for reliable multi-channel and stereo/dual mono playback with no moving parts
1,000's in use for many years playing back audio 24/7!
24bit/48kHz audio phrases and up to 260 hours of high quality RDAC coding
Industry leader in sound quality and long recording times.
Flexible External Control Functions and Sophisticated Internal Playlists
The AR series offers many ways to instantly play back phrases suitable for any application. The AR series is the industry leader in flexible control options. For more detailed information see the AR Series Feature Comparison
IP Playback Control and File Transfer
Record, play back and update files over standard IP network.
Fast way to update theme park events or reconfigure audio for special events.
External Audio Ducks during Phrase Playback to User Selectable Level
Great way to integrate messages with background music.
Phrase Features include Equalization, Time Stretching and Cross-Fade Looping
Important features for sound effects playback in themed environments.
Time code sync and sample accurate playback up to 64 channels
Reliable way to play back multi-channel audio with no moving parts.
Easy to sync to video or show control.
MIDI File Recording and Playback
Great for show and lighting control management
Free Playlist Editing and .WAV file Conversion Software
Easy way to load an AR with computer-produced audio and configure playlists and control options.
Audio recorded on inexpensive Compact Flash memory
Cost effective storage for hours of recording and playback time with no moving parts
Applications
Theme parks, all themed environments
Reliable, no moving part playback makes for secure, problem-free installations.
Crossfade looping and other advanced features are perfect for environmental sound effects.
12v models for vehicle and outdoor installations
Restaurants and retail establishments for messages and special announcements
AR series ducks background music when message is played.
Easy to record special messages on site.
Public transportation
12v operation and no moving parts are perfect for installations requiring rugged, reliable audio playback.
Museums
Flexible control options provide easy ways to trigger sounds.
Messages for satellite music delivery applications
Automatic ducking of external audio integrates AR perfectly in background music delivery systems.
Phone messages on hold
Reliable playback with no moving parts and no sound degradation over time as found in cassette-based systems.
Easy to load new message files using free ARE software.
Remote-controlled IP recording and file retrieval
Easy way to remotely control recordings for meetings, courtrooms and other activities.
Free ARE software converts recordings quickly for posting on internet or CD burning.